Discovery Project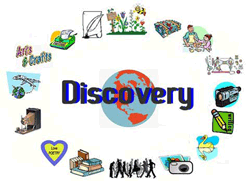 The u3a is all about following our interests and finding new ones. The latter is now more difficult because of the restrictions imposed on us by Coronavirus but it is not impossible. 'Discovering…' contains expert guidance from convenors for any member who has no prior experience with an activity but wants to give it a try. So far we have the following 'beginners guides':

Art, Looking At A Picture - Margaret Lawrenson. Margaret part of the Art Appreciation Group has contributed this article for 'Discovery' by Alice Roberts of 'The Arts Society' that discusses the many ways in which a painting can be viewed. If you can't visit a gallery to try out her ideas then the gallery can come to you – visit these websites and bring great Art into your living room…
www.saatchigallery.com www.nationalgallery.org.uk www.npg.org.uk www.tate.org.uk Alice mentions others on page 6 of her article.

Family History - Margaret Dickinson. Margaret gives practical advice on how you can use the Internet to find out more about your family history and the questions you need to ask as you view material.

Gardening - Peter Dickinson. As well as being relaxing, gardening is an opportunity for exercise in the bracing Yorkshire autumn air!

Hands on Art - Prue Campbell. Prue discusses the effects that can be obtained from using different types of paint and suggests some outlets where materials can be purchased. Most importantly, she encourages everyone to have a go!

Knitting - Jane Thompson. Knitting has many benefits ranging from improving mental and physical health to the satisfaction gained from creating something. Jane's guide tells you where to buy equipment and how to use 'You Tube' for further advice on following a pattern.

Music - June Clough. June has contributed a link to help you discover the wonderful Beethoven piano sonatas. It will take you to a festival at a church in Perivale at which all the sonatas were played by different pianists in one weekend.

Photography - John Knox. John gives advice on how to compose a photograph and suggests some subjects that those new to photography could choose. He outlines the functions of camera controls and the options available for printing and saving your work - photo albums and those awkward little corner mounts are out!

Wine Tasting - John Peck. John describes how to appreciate wine by concentrating on sight, smell and taste - and no, you don't have to spit it all out! He then outlines the different types of grapes and concludes with some history of the Chateau Mouton Rothschild label.

Writing - John Munson. John deals with some of the misconceptions surrounding creative writing and gives advice on how to approach topics that those new to writing can successfully attempt.
Please e mail John Munson with your work to this address : john_munson@hotmail.co.uk.
To view the articles that have been sent in please go to main menu 'Discovering' and follow links to the various pages.
Comments about the various articles please send to John Munson by email, any problems with the website please email the webmaster.