Science & Technology
Convenor

Roger Hoare
Information
Contact: Telephone No on Newsletter.
Meetings: As Arranged.
Venue: As arranged.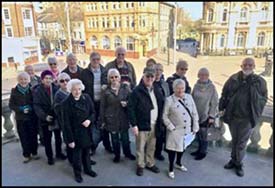 • Occasional talks
• Mainly visits
• Local companies/organisations
• Scientific/Technological interests
• Car sharing encouraged

Visits are open only to group members (and waiting list where numbers permit).
---
As most of the activities of our Science & Technology group consist of visits to companies and organisations usually with a scientific or technological interest, we are not really functioning during this time. Our arranged visits to to LKAB Minerals, Scunthorpe, RAF Fylingdales, Pickering and Bright Blue Food in Hull were clearly all cancelled - though all have agreed for us to visit when this becomes possible.

During the period of lockdown one of our members suggested that our members write and send in articles on memories of their working lives, changes in technology etc. This has gone ahead and to date six contributions have been emailed to our members and also to those on our fairly large waiting list. The articles have been sent out on a fortnightly basis so has kept us in touch over the last 12 weeks. This has, I think, been well received so far. We look forward to being able to resume our usual activities when the situation improves.
Roger Hoare.
Date
Day
Contact
Venue
September - January
Monday 2.00pm
As Arranged
Questions? Please contact the Convenor whose Telephone No is available on the Newsletter.